Midterm - Chapter 2
Player Elements: Who plays and why?
Game Market
Game market consists of the people who play games
The Entertainment Software Association (ESA)

In a 2006 poll, ESA determined that in the U.S. 69% heads of households play games regularly
Found that adults who play have been doing so for an estimated 12 years
The average gamer plays about 6.5 hours per week
Player Motivation
Social Interaction - Interacting with other people in the game
Physical Seclusion - The want to be alone and away from other people
Competition - The thrill of playing against other people drives some to play video games
Knowledge - Players will play games in order to learn something new, such as a concept or skill
Mastery - People would like to demonstrate their ability to dominate the game world
Escapism - The chance to escape the stresses and challenges of real life drive some to play
Addiction - Some people tend to focus on one activity at the expense of others
Richard Bartle's types of MUD players.
Hearts, the Socializers - The socializers enjoy interacting and chatting with other players and gossiping about events.
Clubs, the Killers - The killers enjoy dominating and griefing other players.
Diamonds, the Achievers - The achievers enjoy reaching the heights of levels, wealth and other forms of achievement.
Spades, the Explorers - The explorers enjoy exploring the game world and systems, and increasing their understanding of the mechanics and content of the game.
Psychographics & Psychotypes
Psychographics: peoples values, attitudes, and lifestyles

VALS Psychotypes: Values, Attitudes, and Lifestyles Survey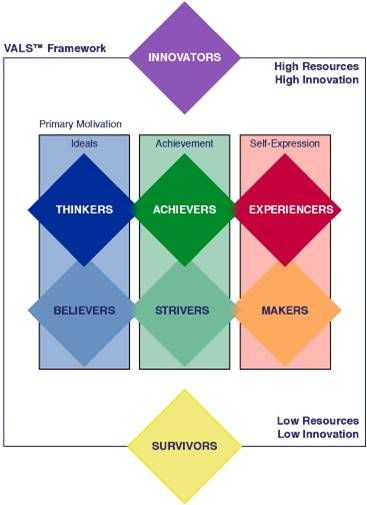 Myers-Briggs Type Indicator

Extroverted Vs. Introverted - Are you more outgoing or shy in social interactions?
Sensing Vs. Intuitive - Are you more focused on what is or what could be?
Thinking Vs. Feeling - Do you solve problems based on what you observe or what your personal impressions?
Judging Vs. Perceiving - Are you more structured or flexible?

Demographics: Gender, Age, Income Level, Marital Status, Ethinicity, and Religion

Gender

Arcades attracted a higher percentage of kids than adults, and as a result no demographics were formed
Male

Arcades were predominantly male, except in the release of titles such as Pac-Man
Computer and mainframe industries were also mostly male-dominant

Female

Women eventually became fueled by the introduction of the World Wide Web (WWW)
In 2003, ESA determined that females became the highest percentage of ages 6-17
Now women make up 40% of the gaming population

Generation

Silent - Preferences for stories that involve making order, and more collected and silent heroes.
Boomers - Preferences for stories with themes of social or political revolution as well as spiritual salvation.
Gen X - Preferences for stories with independence, cynicism, and lone heroes.
Millennials - Preferences for stories with cooperation, teams, and structured systems.
Instructor's Note: This is a very well-organized page with lots of anchors. I think a student would need to actually read some of the relevant portions of the book to really understand some of this, but this is a good guide.
page revision: 25, last edited:
19 Oct 2009 01:21